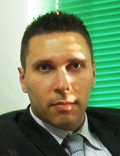 Diego Bosco , General Manager at Consorzio Italbiotec
http://www.italbiotec.it
Bilateral Meetings
Thursday 24 September 2015 (02:00 pm - 06:00 pm)
Friday 25 September 2015 (09:30 am - 12:30 pm)
Friday 25 September 2015 (01:30 pm - 06:00 pm)

Consorzio Italbiotec is a non-profit organization, founded in 1998, first establishing its headquarters within the Technology Park of Gerenzano. Today the consortium has offices in Lodi, Milan and Lecce.
Research, Training and Business Development form the functional core of Consorzio Italbiotec, which has been promoting the biotechnology sector for over 15 years through national and international collaborations among universities, research centres and private companies. The consortium is a private-public entities, comprehending the eight charter members (5 Universities, CNR, Parco Tecnologico Padano and Dulbecco Foundation), ordinary members and associate members (more over 20 SMEs).
Consorzio Italbiotec offers advanced fundraising and business development services, from the identification and assessment of financing opportunities to project management and company development support. The range of activities includes the planning of advanced training programmes , the coordination of strategic Research, Development and Innovation projects and the supply of integrated services for organizations in the pharmaceutical, biomedical, chemical, agro-food, environmental and energy industries. It supports management plans, high-tech startups and the implementation of industrial development plans for enterprise relaunch.
Consorzio Italbiotec works on national and international projects in the fields of research and development, innovation, business development, technology and knowledge transfer, internationalization and start-up support, to enhance competitiveness of enterprise and SMEs. Italbiotec supports the company's growth through a careful planning of business development strategies that are fully personalised and tailored on the client's environment, promoting the creation of professional and academic qualified networks and a project management methodology focuses on innovation and dissemination of results.
Country: Italy
Organization Type: Company, Cluster, Research Centre
Organization Size: 11-25
Founding Year: 1998
Email: diego.bosco@italbiotec.it
City: Lodi ,Via Einstein - Loc. Cascina Codazza Google map
Areas of Activities
Industrial biotechnology (including biocatalysts)
Environmental technologies (enzymes, decontamination, bioremediation)